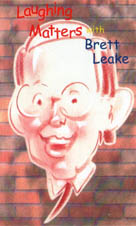 Laughing Matters with Brett Leake Archived: No Additional Playdates Planned

Description: Comedian Brett Leake stands apart - or at least sits apart - from his peers. In his youth, the Virginia native was diagnosed with muscular dystrophy. But he pushed the disability aside and has become a successful comic, gaining national recognition on The Tonight Show with Jay Leno, Entertainment Tonight, and the American Comedy Awards.
In Laughing Matters with Brett Leake, you'll join the audience for one of Brett live routines at the Comedy Club at Matt's Village Pub in Richmond's Shockoe Slip and see why his comedy has garnered such acclaim. But, Brett is more than a funny guy — he is an extraordinary inspiration to all who meet him. You'll see why in one-and-one interviews which reveal another side of Brett's character. The whole family will enjoy this hour of wit and wisdom of Brett Leake.
Description provided by WCVE

A production of the Community Idea Stations, WCVE-Richmond PBS, WHTJ-Charlottesville PBS. www.ideastations.org.
Distributed by American Public Television

Awards:

Chris Awards, Columbus Film Festival for excellence in production
Bronze Plaque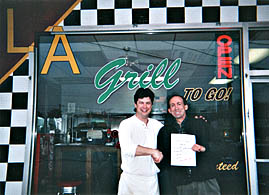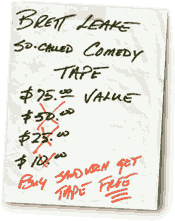 Brett and high school chum
LA Grill restaurateur Dennis West. "...Buy sandwich get tape free"

LA Grill Certificate of Merit; Lakeside, Virginia
Free Pork Sandwich at a time still to be determined.

Complete production credits for Laughing Matters:
Click here for the complete production credits for Laughing Matters.

E-mails:
Click here for a slew of e-mails from fans.

Clean Comedy TV Show Stations:
Look for Laughing Matters on these stations.
Thank you to everyone who has made such a rewarding experience the Public Broadcasting Television Special, Laughing Matters with Brett Leake.
Response to WCVE's sixty-minute program of humor and motivation has been heartening: during its initial broadcast on December 4, 2001, Central Virginia Public Broadcasting welcomed more than three times as many new memberships as anticipated. I'm grateful to all who attended the live taping, worked so hard on the program's production, promoted the televised broadcast, called in during its showing with support and encouragement, and to those of you who have, in the week since, shared with me how "the family watched television and laughed together". I'm delighted you liked it. My family and I have been enriched by the gift of this program's creation, showing, and response.
My heartfelt thanks to all,

December 13, 2001