Funny Motivational Keynote Education Speech:
That's What We Get for Thinking...: From Homo sapiens to Homo sapiens curans
Clean, funny humor and light uplifting stories about caring...Yay Teacher!

"
During my time in public schools, things didn't always make sense to me, and my dreams didn't all come true — and what a great place for that to happen.
I needed to learn that about life.
At a supportive community like the one in which I found myself, where I could learn that lesson, that when things don't make sense and when our dreams don't come true, that's not the end of the process. Those moments can be the beginning of a new path."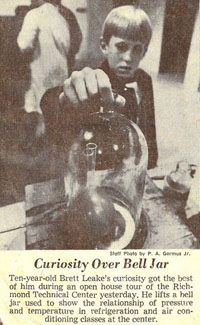 When we care about how we think, we encounter ideas, events, beliefs that don't make sense.
One experience that doesn't make sense is a particular feeling… nothing feels better than to effectively serve a cause greater than our own.
The core of the reasoning being is nonsensical – we have a selfish need to serve.
That's what we get for thinking.

Thinking about how we care
A thinking caring community makes a particular sound – laughter, a type of laughter. Not derisive or divisive but laughter from observation, discovery, and empathy.
In That's What We Get for Thinking, I define and recreate through jokes and stories the type of laughter I've experienced on the receiving end of effective care.
Graduation: Home sapiens to Homo sapiens curans I profile three educators – a college professor, a high school band director, and a first grade teacher. I recall tidbits of what they taught but most of how they helped.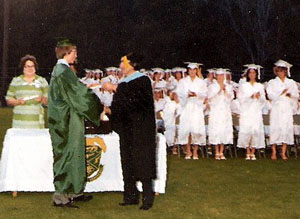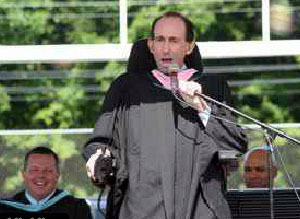 It took nearly 6 million years for the earliest humans to evolve into Homo sapiens; with the help of humor the step to Homo sapiens curans can be bridged in a single lifespan.

Fun Educational Keynote Client List
Conference: National Science Foundation, NYSUT (New York State United Teachers), Virginia Department of Education, West Virginia Department of Education; Virginia Association of School Superintendents Convocations: 25 cities and counties in Virginia along with several in Pennsylvania and North Carolina Exceptional educational/special needs: Florida: St. Lucie County Public Schools; Virginia Association for Supervision and Curriculum Development, Virginia Association of Visiting Teachers/ School Social Workers; Henrico County adapted PE. Values: Fredericksburg City Schools (perseverance); Christ the King Catholic High School (service); Salisbury Presbyterian Church (gratitude) Funny graduation speaker for Commencement:
– College: Jefferson College of Health Sciences

– High School: Virginia-Heritage, Centreville, Liberty; North Carolina: Ashe County

Letters recommending Brett's funny education keynote speech as a way to…
help bring together

"
For our particularly diverse group of educators, researchers, and university administrators, your presentation was well received on a number of levels. Your command of wit, wisdom, humanity, and your innate ability to connect the disparate pieces of life's puzzlements is truly an inspiration to us all. Moreover, your obvious ability to succeed — and succeed well — in spite of strong expectations to the contrary is something each of us must innately share.
In moments of doubt or hesitation, know that what you do matters in this world."
— James J. Powlik, Ph.D Assistant Program Officer National Science Foundation EHR/HRD
"
As a member of a central office committee who plans beginning of the year activities, this year we decided to start the new school year off in a different way. After some discussion, we elected to invite Brett Leake, a comedian, to deliver the keynote address for our division's convocation.
Mr. Leake's presentation was a wonderful combination of philosophic musings on life and realistic 'in the trenches' teacher experiences. He connected with all teachers at all grade levels and the result was ongoing, cacophonous laughter mixed with spontaneous thunderous applause."
— Jackie A. Giorgi Director of 6-12 Curriculum and Instruction Franklin County Public Schools
...re-energize
"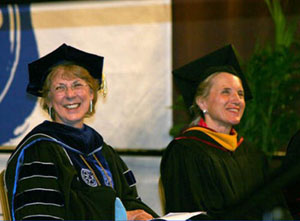 Administrators enjoy the fun commencement speech for Jefferson College of Health Sciences
The positive energy and sincerity that you bring reminds us why we chose education. To
quote one participant, 'It felt good to laugh and learn"
"...Our conference participants found you an inspiring, make-a-difference sort of fellow. Thank you for sharing your insight and wisdom with us as our featured speaker.... Your evaluations were outstanding with participants using words such as 'sensational', ' inspirational', and 'motivational'. It was a pleasure to work with you and I hope that we can invite you back again soon."
— Sandra Critchfield Director of Program Development and Evaluation Rappahannock (VA) Region Professional Development Conference Spotsylvania County Schools
"
"The superintendents appreciated the levity… Seinfeld was right. You are funny."
— Alfred R. Butler, IV Executive Director Virginia Association of School Superintendent
"
You were a smash...your humor was just what we needed to energize us and to set the tone for a successful school year. While your wit and humor are exceptional, what you model through your own life story also sends volumes to our teachers and staff. I would recommend you to any educational group that helps shape young people's lives and endorse you as a speaker for their kickoff event."
— Lissy Merenda Supervisor, School/Community Relations Marketing and Partnerships Roanoke City Public Schools

...and lift the morale of
"
You gave everyone such a positive experience… Without a doubt you gave us all some wonderful positive memories and lifted our morale. I must have received at least a dozen, personal 'thank you's'for having you as our special guest presenter. I attended your Manassas City presentation as well, and their standing ovation certainly is a testimony to their positive reception."
Dr.Thomas H. DeBolt Division Superintendent Manassas Park (VA) City Schools
...teachers, and to remind them of how important they are.
"
… and just when you thought you couldn't laugh any harder, he ties in his jokes to some particularly moving insights of the importance of teaching. Our teachers loved Brett… the highlight of our teachers' first week back."
— Richard Trumble Assistant Principal Ocean Lakes High School
"
To be perfectly honest, I was unsure exactly how this relatively non-traditional approach at division wide 'staff development' would be received but having seen you myself I was prepared to take a chance. Some of the comments overheard included: 'That was the best training I've heard in 16 years of education'…'I've been teaching for 30 years and this was the best staff development we have ever had'…'No one has ever started the year off with having fun – thank you'.
"[You]…are gifted in your ability to use humor to connect with educators in a way that motivates and inspires them to rethink some of the profession's (and life's!) challenges in a more positive and constructive way."
— Melody D. Hackney Assistant Superintendent for Instruction Mecklenburg County Public Schools
| | |
| --- | --- |
| Graduates at Heritage High School enjoy Brett's commencement address | Brett Leake signs autographs for students at North Pole High School in North Pole, Alaska |
An abbreviated version of Brett's keynote works well at high schools and colleges as a funny graduation speech.
"
I have heard only great things about you! The parents, students, and guests loved you!"
— Sandra Colvin 2002 Class Sponsor Liberty High School, Bealeton, Virginia
"
I truly believe there's not a speaker out there that is more motivational or inspirational for teachers and school administrators than Brett Leake."
— Cathy Benner Assistant Superintendent Orange County Public Schools

Video:
Above is a 2 minute Clean Comedy Clip showcasing two of the jokes found in That's What We Get for Thinking.